With more and more sustainability reporting initiatives emerging, we put together 7 fundamentals that businesses can follow to stay above the flow and succeed in reporting.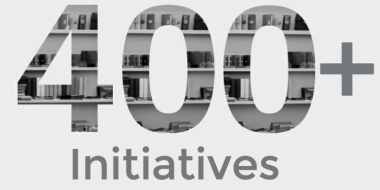 There has been an increased recognition of the importance of sustainability and environmental, social and governance (ESG) factors in business strategy. A recent report showed 75% of senior executives in investment firms stated that sustainability was material to them when making investment decisions, highlighting the importance for companies to communicate this information in their mainstream report.
However with the birth of so many different reporting requirements, frameworks and initiatives in the past decades, there is no standardised way of reporting this information. This presents a challenge to businesses trying to communicate their sustainability performance and strategy to their investors. In an internal research project to map the standards, requirements, guidance and other reporting provisions that influence corporate climate change reporting, we have found that there are over 400 such provisions. Since then, this number essentially became a figure to represent the challenge caused by the multiplication of these reporting initiatives. In his speech 'Breaking the tragedy of the horizon', Mark Carney, Governor of the Bank of England and chairman to the Financial Stability Board, stated there were nearly 400 initiatives and established the need for the Task Force on Climate-related Disclosures (TCFD) to design and deliver a voluntary standard for disclosure by those companies that emit carbon.
Through our work with the World Business Council for Sustainable Development (WBCSD), we have found that the world of reporting provisions is even more complicated and have set out to map the reporting landscape in order to help businesses, regulators and others navigate this complex world. The outcome of this work will be The Reporting Exchange.
Our latest report with the ACCA further discusses the fragmentation of the reporting landscape which results in the discipline failing to fulfil its potential. There are, however, seven fundamentals that companies can use to ensure that their reporting is successful: 
Clear objective: ensure an objective is set for the reporting activity so you know why you are reporting;
Audience: know who is asking for the information. This might be set by an appropriate authority (e.g. regulator or investors);
Clear content: make sure you are clear about what you are reporting;
Standard: follow a standard to make sure you know how to report
System: have a system in place for supplying, storing and analysing information so that you know where to report information and users know where to find it.
Assurance: ensure that information complies with the standards used to prepare them so that users can have confidence in what you report
Review: ensure that readers can feed back views to preparers and standard setters about whether they are getting what they need.
We work to provide guidance to those caught amongst the confusion of sustainability reporting by making connections and showing how different reporting approaches align. Through the CDSB Framework, we set out an approach that helps organisations prepare and present consistent, comparable and decision-useful environmental information in mainstream reports. Our work with World Business Council for Sustainable Development (WBCSD) also aims to address the complexity of the sustainability reporting world through a ground breaking global knowledge platform to make it easier to navigate the reporting landscape.
We are entering into a new order of corporate reporting in which sustainability and financial information will be reported with the same rigour. Collaboration and alignment is crucial to ensure that the new order of corporate reporting is successful by bringing harmonisation to the over '400' initiatives in existence today.