Climate Disclosure Standards Board (CDSB) released the CDSB Framework application guidance for climate-related disclosure (Climate Guidance). The release is the first in a series of guides on nature-related financial disclosure, with Water Guidance to follow early next year.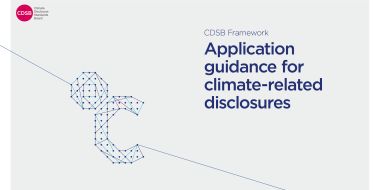 28 July 2020: Published today, the Climate Guidance is designed to provide additional "how to"assistance to companies to disclose material climate-related information in mainstream corporate reports. The guidance complements the CDSB Framework for reporting environmental and climate change information (CDSB Framework), and aligns with other global standards, recommendations and metrics, such as the Recommendations of the Task Force on Climate-Related Disclosures (TCFD), Global Reporting Initiative (GRI), Sustainability Accounting Standards Board (SASB), CDP, and others. 
The Climate Guidance, the first one in a series of supplementary guides planned for the users of the CDSB Framework, seeks to address the gap in reporting quality by providing up-to-date guidance focused on the disclosure of material non-financial information in the mainstream report.  
David Astley, the lead author of the guidance, noted that "The hands-on Climate Guidance featuresexamples of good practice, checklists, links to further relevant resources, and answers the 'how to'and 'what does it look like' questions that CDSB hears from the market." 
"Companies are still falling short of adequately reporting environmental and climate-related information. Investor demand for consistent, comparable and reliable information on ESG matters is growing rapidly, and despite this widespread support, climate-related disclosure is not where it needs to be to move money in the right direction. TCFD has released a set of recommendations, this guidance CDSB is launching today can play an important role shifting support for TCFD to action.,"says Mardi McBrien, Managing Director of CDSB.  
Download the guidance:
--- 
This work is supported by the EU LIFE Programme, Bloomberg Philanthropies and the Gordon and Betty Moore Foundation and aims to assist report preparers in creating a paradigm shift across Europe and globally in the quality and quantity of decision-useful information to investors. 
The Climate Disclosure Standards Board (CDSB) is an international consortium of business and environmental NGOs. We are committed to advancing and aligning the global mainstream corporate reporting model to equate natural capital with financial capital. 
We do this by offering companies a framework for reporting environmental information with the same rigour as financial information. In turn this helps them to provide investors with decision-useful environmental information via the mainstream corporate report, enhancing the efficient allocation of capital. Regulators also benefit from compliance-ready materials. 
Recognising that information about natural capital and financial capital is equally essential for an understanding of corporate performance, our work builds trust and transparency needed to foster resilient capital markets. Collectively, we aim to contribute to more sustainable economic, social and environmental systems. 
CDSB also hosts the TCFD Knowledge Hub on behalf of the Task Force on Climate-related Financial Disclosures.  
Michael Zimonyi, Policy and External Affairs Director, CDSB